I am celebrating reaching 100 113 Followers! I finally got everything figured out and here it is!
I would like to thank each and every one of my followers! Your sweet comments just make my day!
I never dreamed I would reach 100 followers so fast.....this blog thing is addictive! I would also like to thank my awesome blog friend Crystal from Ms. Jones' Junction for donating the $10 Teacher's Notebook gift certificate and an item from her awesome TN store! Be sure to show her some love....:) You will be drooling over her adorable classroom theme if you haven't already seen it!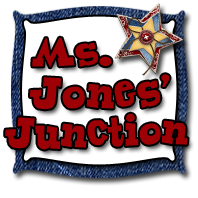 Teacher's Fashion Linky! Check it out!
So....

Here are the guidelines...
1. Tell me your favorite store(s) that you like to get your "teacher's fashion".
2. What are some of your favorite accessories?
3. What type of shoes do you teach in? (i.e. heels, flats, wedges, etc.)
4. Do you have a "go-to" item in your closet? (i.e. sweater you wear weekly, shoes you wear daily, etc.)
5. Have you ever had a fashion "uh-oh" at school? (i.e. heel broke, button popped off of blouse)
I don't have one particular favorite. I do love Cato's &
JC Penney's, but I love a good thrift store find too! I rarely pay full price for anything! Here are a couple of cute tops I got at Penney's last weekend and 3 I got from Goodwill a few weeks ago.
I puffy heart love scarves! They are my favorite! I also love cute necklaces and pretty slides! Here is a picture of my newest scarf that I got from Old Navy last weekend and also my necklaces on the necklace holder I made myself! I love bracelets, but don't wear them because they never fit me correctly!
I tend to wear flats and sandals to teach in but I do occasionally wear wedges. I love shoes but have wide feet so I have a hard time finding cute shoes to fit! I guess in a way, that's a good thing. I would have a second closet just for shoes if I could fit anything! Here is a pair of new Mootsie Tootsies I bought at Goodwill for just a few dollars. They are so comfy! I am sure I will wear these a lot this year!
I definitely had a go-to item last year in my high school classroom! It was always freezing and I couldn't adjust the AC so I just kept my denim jacket with me all the time. It's really cute and made by Christiana Zimm...I got it at TJ Maxx last fall! I love it..:)
I honestly can't think of anything that has ever happened to me at school, however I have mended many a flip-flop for my students through the years!
Well, that was fun! I am hoping to pick up a few new things in Tallahassee this weekend! I am really wanting some dresses for this year! Be sure to enter my giveaway....good luck!
Be Blessed!
...