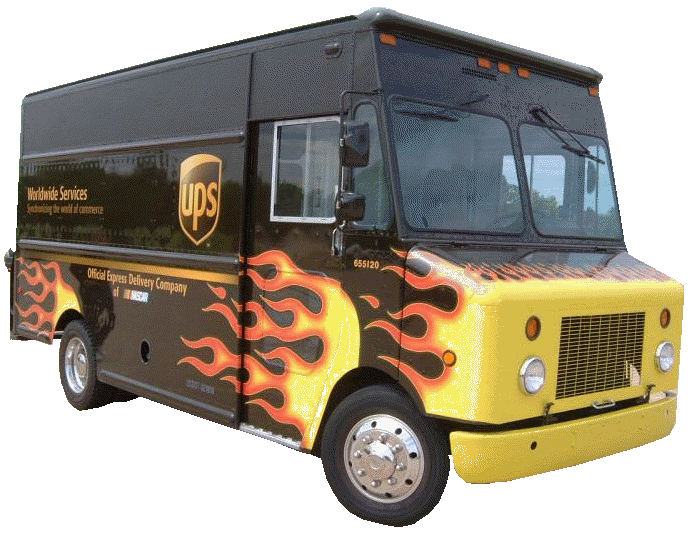 Don't you just love those

big brown

UPS trucks? I know I do because they always bring me good awesome stuff!
This truck is even more special with it's flames down the sides....never seen one like that! I was so bummed because he didn't come before I had to leave for a senior trip meeting (I'm my son's senior class sponsor.) to discuss our cruise for next summer and get it booked! It's looking like a 5 night cruise to the Bahamas...so excited because I've never been on a cruise!
Anywho, back on topic, so, he left my package with my cousin across the road and she got it to me! You might remember a
few days ago I blogged about the awesome fabric I ordered from
this place.
You can read that post
here
. Well, it's here and I am beyond thrilled to have it! It is very nice quality fabric....much better for the price than you can get at your local fabric shop! I can't wait to make some delicious decor for my classroom! My plans are to make a valance for my one lonely window, a bunting or perhaps two to hang somewhere in the classroom, and a skirt for my desk/table. If I have enough of the chevron print left, I might even cover my desk chair to match! Here's a picture of them all together.
The pink was a piece I had bought at Wal Mart, but I'm going to look for a pink and white stripe to replace it before I start creating! I like the way the other four have white in the fabric and I think the pink needs some white in it too. I am very visual and this just isn't pleasing to my eye!
I am hoping to find a pink and white stripe.
I know, I know....I have a problem! LOL...:) Good news is, I am going to the big city of Gainesville (home of the

F

l

o

r

i

d

a

G

a

t

o

r

s

) later today and I will run by JoAnn's and see what they have! I also got my handy dandy teacher 25% discount card in the mail the other day, so that will come in handy!
~*~*~*~*~*~*~*~*~*~*~*~*~*~*~*~*~*~
Before I go, I wanted to let you in on a

S

W

E

E

T

giveaway! I really don't want to share but I have to in order to get my name in the drawing 5 more times...lol! I know....I'm selfish! Well, anyway, Tonya, one of my favorite bloggers, from Tonya's Treats for Teachers is giving away some yummy stuff! Check it out! One of the prizes is a $5.00 gift card to DQ....who doesn't love a tasty blizzard!
Here's my favorite! Thank goodness it's only for a limited time...:)
It's the

Chocolate Candy Shop

Blizzard! It's filled with tiny chocolate candies filled with caramel, fudge, & hazelnut creme.....MMmmm! OK......wipe the drool off the keyboard and go click on the link above if you want to enter!
...